My proverbial nightstand is ridiculously stacked. After a few years of minimal reading, I've been bitten by the bug with no regrets! There are SO many good books that have come out lately that this just scratches the surface.
Now that I'm out of my editing cave, I will be sharing more recommendations with my fellow book nerds. 🙂 Since it's what I write, I read a lot of inspirational titles and want to spread awareness that there are some top-notch reads in that industry. I primarily go with contemporary romance, a little YA, and a touch of fantasy, but most of everything is fair game here — inspirational and general market — so don't be surprised if you find a few curveballs.
As a busy working wife-mama-writer, you know I don't have time to read anything except that which captivates me until the very end! So, if you need something good this summer, look no further than this variety of titles:
My Sister's Book!!!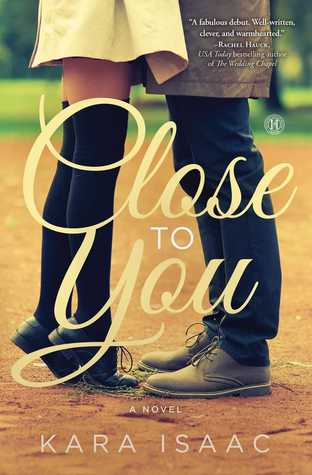 I know it LOOKS like I'm biased, but trust me on this one. If you follow me on social media, you've heard me talk about how proud I am of Kara and Close to You! Her stunning romantic comedy debut fuses moments of laugh-out-loud humor with poignant plotlines set in the unique New Zealand backdrop of the Lord of the Rings movie set. I would recommend this book not only to those who love all things Middle Earth, but to anyone who loves a heartwarming love story and characters so fun and real that you can't help but root for them!
Something Thrilling
When I saw Laura McNeill had a new book, I was immediately intrigued — especially when I saw her background in journalism. Her work is different than her publisher's usual (Thomas Nelson), and Sister Dear is no exception. A woman's just been released from prison after being wrongfully accused, hoping to reconnect with her family and the daughter she barely knows after years of lost time. A murder mystery, broken family, twisted small town dynamic, and characters harboring chilling secrets make for a page-turning psychological read. The author deftly maneuvers multiple points of view that will keep readers on their toes for sure!
For Curiosity's Sake
When the latest contemporary romance from Melissa Tagg, Like Never Before, released, you'd better believe I packed up my little cub for a trip to the bookstore! Why was I so eager to get my hands on it? Because the author has been raving about her hero in this inspirational contemporary romance on social media, so you'd better believe I was curious. With a premise that includes single dad, reporter heroine, and failing small-town newspaper, how can you go wrong?
Something Sherlockian
The Bachelor Girl's Guide to Murder by Rachel McMillan: If you love Sherlock Holmes — or just adventure and clever writing in a historical setting —  you'll love the Herringford and Watts Mysteries. The story takes place in 1910, where our heroines Jem and Merinda are sleuthing in the streets of Toronto instead of behaving and preparing for marriage like most girls their age. Readers will love being a third wheel to their adventures — and want Merinda to be a "bad influence" on them, too — as they become embroiled in solving murders with these strong female characters. McMillan lends a strong voice laced with humor and intrigue in this unique, incredibly intelligent addition to the inspirational fiction market.
Something Anticipated
If you know anything about my reading tastes, you know I'm a huge fan of Becky Wade! Her One and Only is filled with romance, a touch of suspense, and satisfying closure for a beloved fictional family. I love the interesting way the author spun the dynamic between bodyguard/protective agent Dru and the NFL superstar she's protecting, Gray, and the unique voice this story had in the scope of one of my favorite series.
(If you're new to Becky Wade, start with My Stubborn Heart or the first in the Porter Family Series, Undeniably Yours.)
Short and Sweet
The books in the Love Inspired line are about 60-75% the length of the average inspirational romance novel, making them perfect for a beach/pool day, flight, or rainy weekend! But Jill Lynn's Her Texas Family is definitely heavy on good, clean romance. Set in a small Texas town, it tells the story of Lucy, who immediately clashes with the widower doctor who hires her, Graham — but makes an instant connection with his daughter. Lucy's fun-loving nature brings much-needed joy to their lives, but meddling forces that try to keep them apart make for intriguing conflict in this well-written novel.
Do any of these sound intriguing to you? What are you reading right now?