Y'all, sometimes editing is an easy thing, basically shooting rainbow ideas through your fingers to create this perfect masterpiece.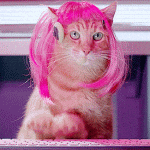 Other times?
You get a late start and all you really want is a couch fort and Harry Potter marathon, but you need to get some work done, so this is how it goes:
Step 1: Sit down at desk, turn on Harry Potter soundtrack music, and immediately stand up. No. This isn't going to work at all.
Step 2: Turn off social media and maximize word processor. Type a few things you immediately delete. Okaaaay?
Step 3: Light a candle and make some tea. This feels better, but something's still off.
Step 4: Change pants and dig old editing playlist from the depths of your computer.
Step 5: Move laptop to an alternate location. There. All is right in the world.
Step 6: Edit approximately 5 pages before you wake up realizing you've added 20 pages of "rrrrrrrrrrrrrrrrr…." to your document.
Editing your own work is a little like trying to reassemble a shredded USA map and fit all the edges together when you've known all your life that Texas goes under Oklahoma. But then a brilliant, lovely editor (Hi, Victoria!) shows you it may also fit off of Alaska and make America prettier, more symmetrical.
So you see your work in a new way you love, but you basically also have to keep Oklahoma from falling into the earth's core.
With the hope and knowledge that, piece by piece, there will be an ending and it will be magnificent, my job is to show up and give my best, whether it's five pages or 50 that day.
And, as nerdy as it sounds, I love going to work. On the whole, it's really, really fun 🙂